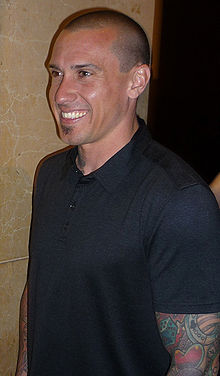 Carey Hart
is
P!nk
's husband.
 He is a motorcycle rider and now co-owns a tattoo company. P!nk has revealed that Carey is the inspiration of the majority of her songs, specifically on her last two albums. The majority of Funhouse was written about their breakup and relationship. Much of The Truth About Love focuses on their relationship, as well. In addition to inspiring P!nk in a lot of her music, Carey has also appeared in several of P!nk's music videos. To date, he has appeared in three of her music videos: "So What", "Just Give Me a Reason", and "True Love". 
Relationship with P!nk
Edit
Hart met P!nk in 2001 and after four years of dating, P!nk proposed to him during one of his races by holding up a sign saying "Will You Marry Me?" Hart ignored the sign, presumably thinking it was a joke, but when Pink held up another sign reading, "I'm Serious", he pulled out of the race and accepted. They were married in 2006.
The couple planned to part ways in 2008 but remained amicable and friendly, especially since P!nk supported Hart when his brother died in a motorcycle accident. By 2009, they resumed the relationship they had and decided not to get a divorce. In June of 2011, P!nk gave birth to their daughter, Willow Sage Hart.
Carey Hart was the inspiration for much of the album Funhouse, specifically the songs "So What", "Funhouse", "I Don't Believe You", among numerous others. The majority of her sixth studio album, The Truth About Love, were also written about their relationship.
Below is a list of songs written about him:
Some live performances of the song "Who Knew", originally written about a friend of P!nk's who died from a drug overdose at the age of 14, are inspired by Hart and the divorce he and P!nk almost had.
Ad blocker interference detected!
Wikia is a free-to-use site that makes money from advertising. We have a modified experience for viewers using ad blockers

Wikia is not accessible if you've made further modifications. Remove the custom ad blocker rule(s) and the page will load as expected.