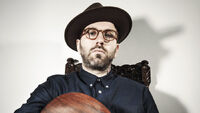 Dallas Green
(born September 29, 1980) is a Canadian musician who releases music under the name
City and Colour
. He is also known for his contributions as the former vocalist, guitarist and songwriter for the post-hardcore band Alexisonfire. In 2005, he debuted his first full-length album,
Sometimes
, which achieved Platinum certification in 2006. City and Colour began performing in small intimate venues while Alexisonfire disappeared for some time.
Green is good friends with Alecia Moore, better known by her stage name P!nk. On September 8, 2014, Green announced a collaboration with P!nk. The duo, performing under the name You+Me, released an album titled rose ave. on October 14.
Ad blocker interference detected!
Wikia is a free-to-use site that makes money from advertising. We have a modified experience for viewers using ad blockers

Wikia is not accessible if you've made further modifications. Remove the custom ad blocker rule(s) and the page will load as expected.