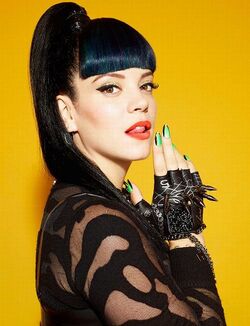 Lily Allen is a featured artist on P!nk's song "True Love", as seen on her sixth album The Truth About Love. On the physical CD, she is credited as Lily Rose Cooper, which she planned on taking as her new stage name after she was wed, however, when it was released as a single, she was credited as Lily Allen on the physical single release. 
On VH1 Storytellers, P!nk gushed about how much she loved Allen; she later made a guest appearance on the show when P!nk sang "True Love", much to everyone's surprise. This was the first time that both P!nk and Allen sang the song live together (P!nk had performed it at other venues without Allen).
Ad blocker interference detected!
Wikia is a free-to-use site that makes money from advertising. We have a modified experience for viewers using ad blockers

Wikia is not accessible if you've made further modifications. Remove the custom ad blocker rule(s) and the page will load as expected.