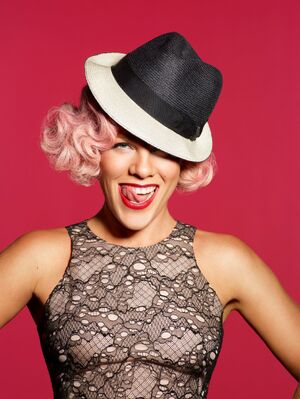 Alecia Beth Moore (born September 8, 1979), known by her stage name Pink (stylized as P!nk), is an American singer-songwriter, musician and actress. In 2000, she released her first single "There You Go", from her debut album Can't Take Me Home. The song was a commercial success, peaking at number 7 on the Billboard Hot 100. In 2001 she released her second studio album Missundaztood, which was critically acclaimed, and her most commercially successful album to date. The album produced the hit singles "Get the Party Started", "Don't Let Me Get Me", "Just Like a Pill" and "Family Portrait". In November 2003, P!nk released her third studio album Try This, which produced the hit singles "Trouble", and "God is a DJ". Although the album was less commercially successful than Missundaztood, it earned P!nk her first Grammy Award for Best Female Rock Vocal Performance.
In April 2006, P!nk released her fourth studio album I'm Not Dead. The album produced several hit singles including "Stupid Girls", "Who Knew", and "U + Ur Hand", and marked her comeback after the poorer-than-expected commercial performance of her previous record. P!nk followed up I'm Not Dead with her 2008-released album Funhouse, largely inspired by her separation from Carey Hart. The lead single, "So What", became P!nk's first solo single to ever reach the top spot on Billboard Hot 100. The album produced three other Top 20 singles: "Sober", "Please Don't Leave Me", and "Glitter in the Air".
On November 15, 2010 P!nk released her first compilation album, Greatest Hits... So Far!!!. The album featured P!nk's biggest career hits as well as three original songs. "Raise Your Glass" and "Fuckin' Perfect" were released as singles, with the latter reaching number two on the Billboard Hot 100 and the former becoming P!nk's second solo single to reach the top spot on the list. After taking a short hiatus to give birth to her daughter Willow, P!nk released her sixth studio album, The Truth About Love. The album was released on September 18, 2012 and for the first time in P!nk's career, debuted atop the Billboard 200, selling more than 280,000 copies in its first week. The lead single, "Blow Me (One Last Kiss)" reached number five on the Billboard Hot 100.
P!nk has sold over 51 million albums and 90 million singles worldwide, making her one of the best-selling artists in history. Her career accolades include three Grammy Awards, two Brit Awards and six MTV Video Music Awards, in addition to having 17 Top 20 Hits on the Billboard charts. In 2009 Billboard magazine named P!nk the number one pop musician of the decade, and in 2012 VH1 named P!nk number 10 on their list of the 100 Greatest Women in Music. In December 2013, P!nk was honored as Billboard's Woman of the Year.
Ad blocker interference detected!
Wikia is a free-to-use site that makes money from advertising. We have a modified experience for viewers using ad blockers

Wikia is not accessible if you've made further modifications. Remove the custom ad blocker rule(s) and the page will load as expected.