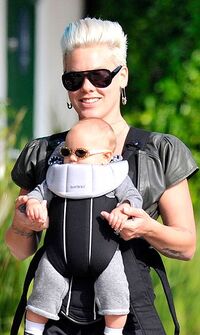 Willow Sage Hart is the daughter of P!nk and Carey Hart. She is their first and currently their only child. Willow was born on June 2nd, 2011. Willow was also featured on two tracks from P!nk's sixth album, The Truth About Love: "How Come You're Not Here " and "Timebomb" (which is an iTunes bonus track), banging bells and strumming the bass, respectively. She also inspired P!nk's song "Run", featured on the deluxe edition of The Truth About Love.
In May 2016, she appeared in P!nk's music video for "Just Like Fire," taken from the Alice Through the Looking Glass soundtrack. According to P!nk, Willow served as inspiration for the song.
Ad blocker interference detected!
Wikia is a free-to-use site that makes money from advertising. We have a modified experience for viewers using ad blockers

Wikia is not accessible if you've made further modifications. Remove the custom ad blocker rule(s) and the page will load as expected.