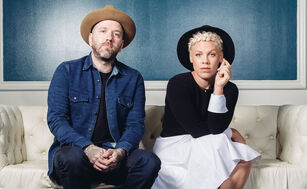 You+Me (sometimes written You Plus Me) are a folk music duo consisting of Canadian musician-singer-songwriter Dallas Green, better known as City and Colour, and American singer-songwriter Alecia Moore, better known as P!nk. Their debut album, entitled rose ave., was released on October 14, 2014, by RCA Records. The first single from the album, "You and Me", premiered on their Vevo channel on September 8, 2014.
Background
Edit
Moore and Green met through mutual friends several years prior to their collaboration. The first time they sang together Green had asked Moore to sing with him at one of his shows. They remained friends and Green opened several shows for Moore in the U.K. Moore had considered singing acoustic ballads, and as friends the two had considered collaborating for several years. In March 2014, their schedules allowed them to get together and compose original songs. They had written musical nuggets in advance, and their debut album Rose Ave. took shape within a week. The artists attributed their quick progress on the freedom from usual production pressures and the joy of making music together. The name of the duo, You+Me, is based on the two friends wanting to sing together.
Rose Ave.Edit
The duo's debut album rose ave. was released on October 14, 2014. The work was initiated and produced by Moore and Green. They had considered releasing the music independently, however in order to reach a large audience and for legal concerns the album was released through RCA Records. The album charted at number one in Canada and at number four in the United States, the home countries of the artists.
Discography
Edit
List of studio albums, with selected chart positions and certifications
Title
Album details
Peak chart positions
Certifications
US
AUS
CAN
GER
AUT
IRE
NLD
NZ
SWI
UK
rose ave.

Released: October 14, 2014
Label: RCA
Formats: CD, digital download

4
2
1
6
7
12
12
7
7
10
List of singles, with selected chart positions
Title
Year
Peak chart positions
Album
AUT
CAN
GER
SWI
"You and Me"
2014
68
48
91
64
rose ave.
"Break the Cycle"
—
41
—
—
"Capsized"
—
57
—
—
Ad blocker interference detected!
Wikia is a free-to-use site that makes money from advertising. We have a modified experience for viewers using ad blockers

Wikia is not accessible if you've made further modifications. Remove the custom ad blocker rule(s) and the page will load as expected.